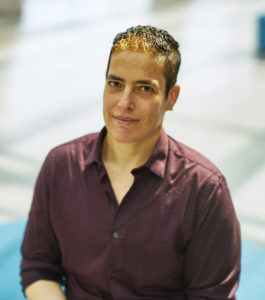 Co-facilitator of the Diversity in Sexual Orientation and Gender Identity Workshop
Ady Ben-Israel, PhD, is a licensed clinical psychologist and certified EFT Couples Therapist working in private practice in New York City. I have been working in mental health with transgender and gender diverse communities since 2003. In private practice, I specialize in working with adults and adolescents of all genders and sexual orientations; couples in a range of relationship structures; as well as with gender diverse young children and their families. I have a longstanding commitment to understanding and attending to dynamics of oppression and privilege in clinical practice.
Ady is a graduate of the LIU Brooklyn Psychology PhD program. Prior to entering clinical practice, I studied critical theory of race and gender in the social studies of science as a way of beginning to question that which is commonly presented as "natural." While these studies were life giving in many ways, my need for additional tools became pressing, and I turned personally and professionally toward psychotherapy, somatic healing, and mindfulness practices.
Ady shares the CEMPSYCH, LLC commitment to inclusive continuing education as evidenced by a 30-minute cultural competence training video co-produced in 2005 that addresses student experiences of LGBT issues in social work class and field settings, Bad Fit: Challenging the Prevalence of Homophobia, Transphobia and Heterosexism in Social Work Education. This training tool has been widely used in graduate social work training programs as well as in training social work supervisors. While the video focuses on experiences in social work education, the issues addressed are relevant to all areas of mental health.
Previously, Ady was the coordinator of the Gender Identity Project at Manhattan's LGBT Center and assisted in editing chapters of the encyclopedic volume, Trans Bodies, Trans Selves published in 2014.
Ady has a passion for discovering and creating non-binary/gender-expansive language, systems, toys, and more. Some favorite neologisms include the gender-neutral Spanish friend, "amigu," as well as the gender-neutral term "pible" to replace aunt/uncle (aunt/uncle is the sibling of a parent; parent sibling = pibling, which is shortened to "pible"). It is only in partial jest that Ady will tell you that one of the best parts of a PhD is the gender-neutral salutation of "Dr."